We are on a mission to connect the growth of the city to jobs with fair pay in emerging green industries.
Detroiters Working for Environmental Justice's Workforce Training program has provided career opportunities to income insecure and minority residents in environmental and construction-related industries, with a focus on repairing and protecting the environment. Our graduates gain career skills where they can play a meaningful role in the revitalization of their communities.
Build Up Detroit
Our Green Jobs/Workforce Training program was one of the first of its kind in Detroit. It grew out of our long-standing community & civic engagement programs, as well as our 2008 Build Up Detroit (BUD) initiative. Its vision moved sustainable development beyond green building to empower communities to take leadership in transforming their environments into healthy places in which to live, work, and play. BUD catalyzed a new paradigm for green job education and workforce development, which were new to Detroit at the time.
Our Green Jobs Training Program inspired the development of many other such programs throughout Detroit. The driving force behind our vision was as much about reclaiming lives as it was about reclaiming the environment.
Detroiters, Reclaiming Their Lives
From the beginning our Green Jobs/Workforce Training Program has continued to help stabilize our communities through:
Meaningful and plentiful work for all
Work that returns our neighborhoods to safe, healthy, and productive places
Local employment
More stable families and communities
Elevated skill levels for both life and work
Over the years, DWEJ trained almost 500 previously unemployed, under-employed, hard-to-place (i.e., young and low-skilled), minority and other participants through our training programs. Despite the limited employment opportunities in Detroit for graduates, our program's placement rate has averaged 65%, with an over 35% placement rate in cyclical or seasonal jobs.
DWEJ worked to build a large network of local businesses to help get our trainees placed into jobs. We are proud to have some alumni of these programs on our staff today!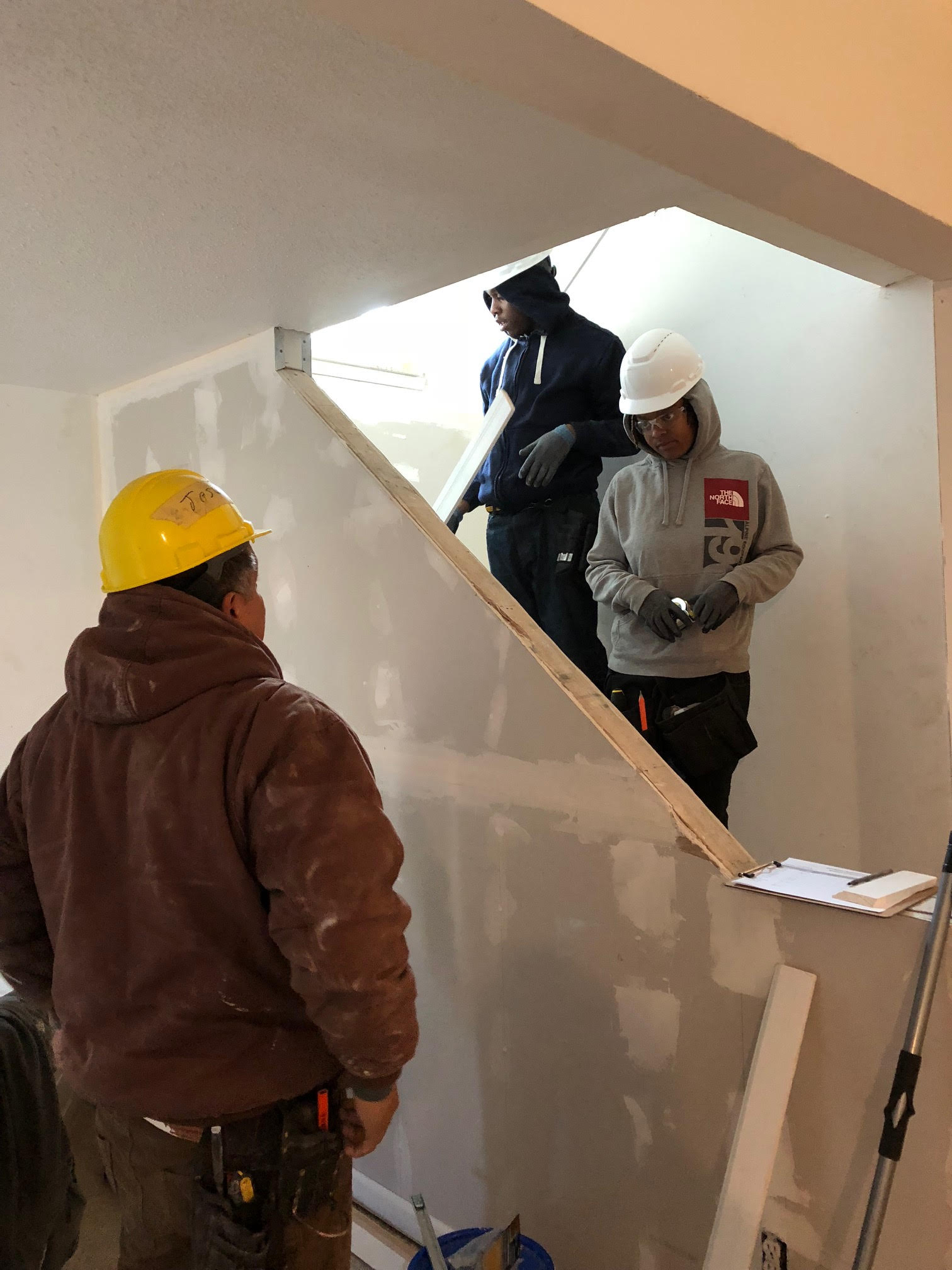 Preparing the Green Workers of Tomorrow
Trainees received basic instruction in job readiness, math, computer literacy, and life skills, as well as traditional technical and industry-specific classroom and on-site training sessions. As a result, we created a talent pool of local residents trained and certified in a variety of skills, including state lead and asbestos abatement, OSHA 10 certification, 30 hour HAZWOPER certification, deconstruction, weatherization, mold abatement, environmental assessment, blueprint reading, First Aid/CPR, and more.
In 2017 we redesigned our workforce program and launched Future Build, a social enterprise, bringing green construction to serve Detroit and creating jobs for our trainees. 
Future Build, Our Social Enterprise
Future Build was created to match quality craftsmanship with an innovative model that connects workforce training and sustainable building practices — i.e., green construction and energy efficiency projects—with the new economic growth in the city. Its programs include residential/commercial remodeling, new construction, solar panel installation, energy efficiency, and lead abatement.
In 2018, we were hired by Focus:Hope, a local social and economic justice organization, to build the Lasalle Eco-Demonstration House, in collaboration with the U.S Green Buildings Council and EcoWorks. Lasalle House shows Detroit residents that low-cost energy efficiencies are environmentally friendly and save costs. This Net-Zero House, whose energy consumption is equivalent to the amount of renewable energy it produces, is a fully weatherized and energy-efficient home with insulated walls & attic space, Energy Star windows & appliances, solar panels on the roof, a rain garden, native plants, and an HVAC air source heat pump. The Future Build team is proud to have completed this commission, and looks forward to completing more projects like this across the city.
Energy Efficiency, an Environmental Justice Service
Moreover, through our DTE-funded Energy Efficiency Assistance Program, we help low-income homeowners reduce their energy "footprint" and annual costs by helping them modernize their homes with new, more efficient insulation, appliances, furnaces, lighting and air conditioning. Our initiative has had a positive impact on the lives of hundreds of Detroiters and helped them combat energy poverty.
Future Builds' work plays a meaningful role in Detroit's resurgence—transforming the built environment, improving neighborhoods, reusing quality housing stock, reducing pollution and landfill debris, and giving economic opportunities to people right where they live. We create a vital opportunity for homeowners and businesses to ensure that their building projects can have a lower impact on the environment, and a positive impact on the neighborhoods and residents of Detroit.
People Trained for Green Jobs Since 2008
Houses We Have Helped Become Energy Efficient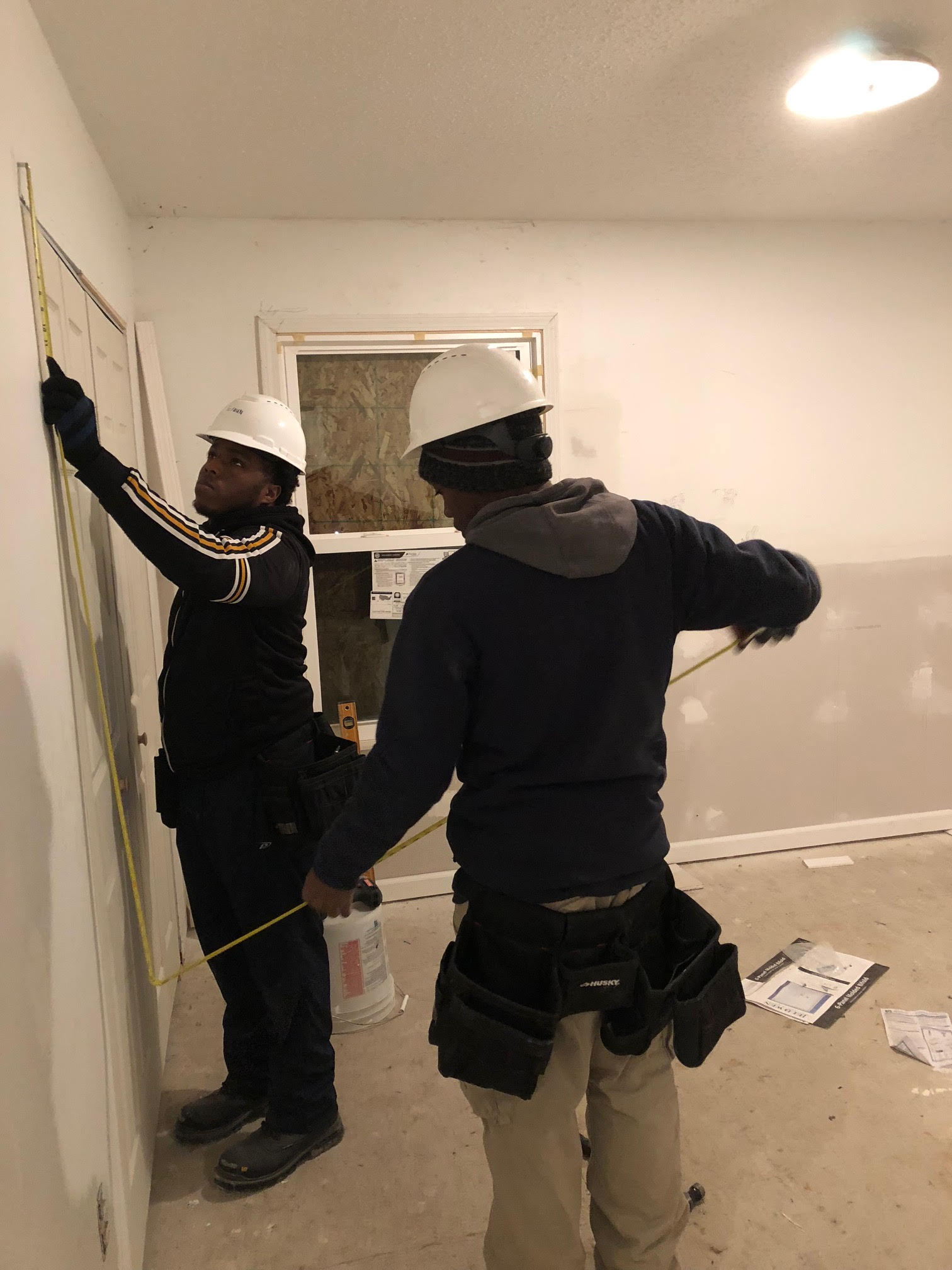 Your recurring gift can help create a healthy, clean and safe Detroit.