Sharing Information, Changing Lives
From the very beginning, Detroiters Working for Environmental Justice has been an advocate for people of color, for communities of limited economic means, for the voiceless, for the environment, and for Detroit and Michigan.
We speak up and speak out to bring attention to long ignored, difficult and systemic problems. We know that raising awareness is only the first step, so we have focused on using our platform and position to generate momentum, forge agreement, and create meaningful change.
Informing the Public and Policymakers about the State of the Environment in Detroit and its Impact on Residents
Ongoing, serious environmental issues had been diminishing quality of life and health of Detroit residents for decades. Yet, there was still no consensus about the extent of the problems, let alone coordinated plans to address them. We knew that there was a need to not only gather this information, but to get it to the public and policymakers. Another government committee meeting or report was not going to be enough, so we took action.
In 2012, DWEJ gathered 10 local organizations committed to environmental justice and together we created the Detroit Environmental Agenda. The result was the first grassroots-led effort of its kind to catalog the environmental state of the city, its impact on quality of life, build consensus on on policy initiatives, produce recommended actions, and help citizens understand their choices at the ballot box.
Today, the Detroit Environmental Agenda consists of over 20 area organizations. It has helped local environmental groups and leaders, like DWEJ, generate crucial credibility and momentum for major city-wide initiatives such as the creation of the Detroit Office of Sustainability in 2017, which is now led by Joel Howrani Heeres, a former member of the collaboration.
The Detroit Environmental Agenda plays a key role in supporting the City of Detroit in its efforts of promoting sustainability through its recently published Detroit Sustainability Action Agenda.
Trusted, Well-Researched and Reputable Information about Environmental and Environmental Justice Issues
Poor air quality and greenhouse gas pollution are two main drivers for the environmental problems faced by Detroit residents. It's no secret that poor air quality increases health risks and shortens lives, and that greenhouse gases drive global climate change. Detroit and many parts of Michigan are already being seriously impacted by climate change, experiencing more frequent flooding and extreme temperatures. The threat will continue to grow if we do not take serious measures to reduce our emissions.
Building upon the momentum and achievements created by the Detroit Environmental Agenda and a subsequent effort called the Detroit Climate Action Collaborative, we led another convention of local groups. In 2017, we collectively published the Detroit Climate Action Plan, the city's first climate action plan. Like the Detroit Environmental Agenda, the Detroit Climate Plan was a grassroots-led initiative and is one of the few of its kind in the US. The climate plan is far more than just another report. It contains over 100 action steps to reduce greenhouse gas emissions and, by extension, the impacts of climate change on Detroit and its residents. In other words, the plan would not only produce cost savings for Detroit in the future, but would also improve quality of life in the near term.
Increasing the Visibility and Credibility of Environmental Justice in Detroit and across Michigan
Environmental issues are widely recognized but environmental justice has not yet reached the same level of recognition. Environmental justice issues too often fail to have "a seat at the table" when plans are created to address environmental problems. Policymakers often focus too much on the problem at hand and not enough on the people affected by them. Making sure that people are not forgotten, or an afterthought, has been at the heart of our efforts for over 25 years.
We got our "seat at the table" and spread the message of our community by participating in three notable initiatives: Community Action to Promote Healthy Environments (CA-PHE), the MI-Environmental Project, and the Michigan Environmental Justice Workgroup.
Recognized for our knowledge and experience working with and being a key advisor and research partner to universities, DWEJ was honored with a lead role in the CA-PHE project, a partnership with the University of Michigan School of Public Health and other regional environmental leaders. CA-PHE achieves our goal of creating meaningful action by offering 10 health action strategy areas that, if implemented, would improve air quality citywide in Detroit and, by extension, the lives of the city's residents.
The State of Michigan also recognized our expertise and position in the community by inviting us to join the Michigan Environmental Justice Workgroup in 2017, which was created in response to the Flint Water Crisis. We were able to use our place at the table to help develop recommendations to policy areas. The first area focused on improving environmental justice awareness. The second focused on helping state and local governments take environmental justice into substantial consideration when crafting policies, rather than treating it as just another box to be checked.
In November 2019, we took our local efforts another step forward by collaborating on the MI-Environmental Project, a new online interactive planning tool.  We partnered with other community leaders, including the Michigan Center on Lifestage Environmental Exposures and Diseases and the Community Engagement Core at the University of Michigan's School of Public Health. The tool provides maps to guide policymakers and community organizations, as we tackle the climate change challenge.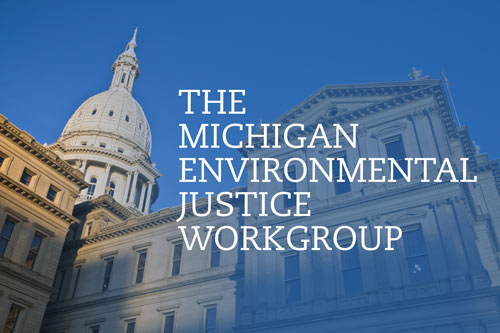 Let's fight for a clean and safe Detroit together.