Creating Change with Our Community
Change often happens at the local level and we are committed to creating positive change for the people of Detroit. One way we have done this is through constantly promoting and creating community action. Sometimes we've taken direct action, like with our job training and energy assistance programs. Other times our action has been focused on preparing others to fight for their own right to health and well-being. From the beginning, DWEJ has brought people together, from convening Detroit's First Environmental Justice Gathering on June 18, 1994, to the Take a Stand for the Land in the 'Hood conference in 1997, to the Detroit Climate Action Collaborative in 2011, to the Detroit Environmental Agenda in 2013, and many more. Given DWEJ's longstanding presence in the community and our direct involvement with many local movements, we have become recognized as a skilled educator, partner, and convener of community stakeholders and residents.
Area of Need: Movement Building through Grassroots Education
DWEJ has always taken pride in engaging with people from all walks of life, not only by building partnerships and providing information on environmental justice issues, but by bringing them together to work on complex environmental problems. We are true advocates for diversity in our partnerships and networks, working with youth, community and government leaders, law, engineering and healthcare professionals, and experts in many other fields. This approach allows us to challenge established patterns and create collaborations that move us toward a better, more dynamic, healthier humanity.
Change requires action. We have organized protests and movements like the ones that helped shut down Detroit's local incinerators. In the 1990's we began Environmental Justice Bus Tours, taking city residents, people from the suburbs and out-of-state, government officials, students and more to see brownfields and other polluted sites for themselves so they could understand their impact on the people who live nearby. We knew how powerful seeing these places up close and in person would be—and we counted on it. The bus tours proved popular and effective and were conducted for many years. One notable accomplishment that grew out of the idea for the tours were Voter Guides, a publication to help people learn about candidates' positions on environmental issues faced by residents of their district. 
ENVIRONMENTAL JUSTICE BUS TOURS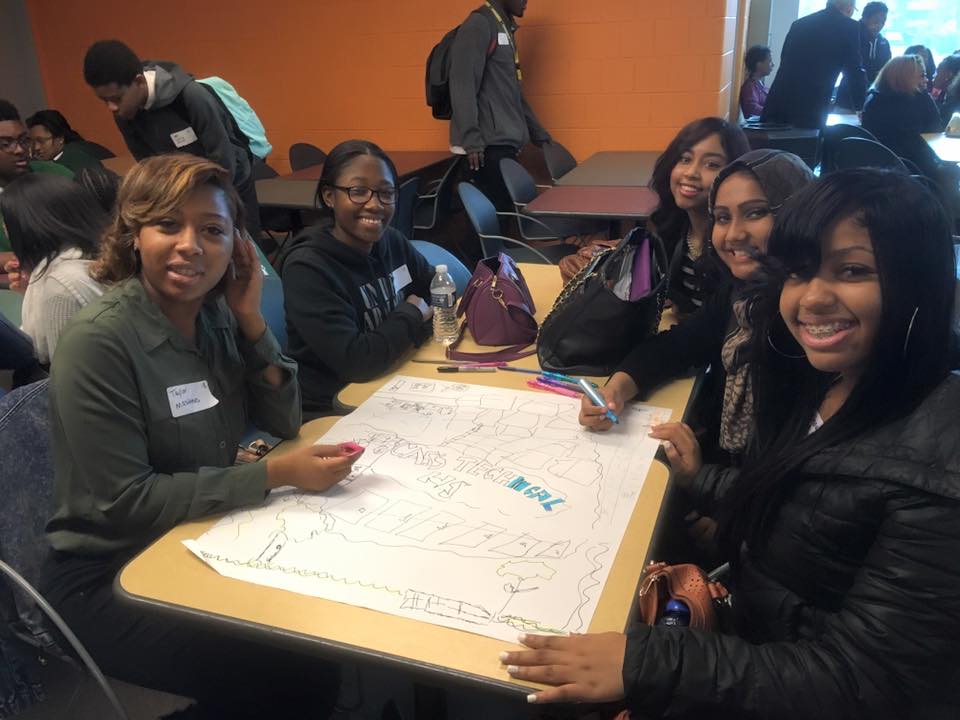 Area of Need: Training Youth to be the Change-Makers of Tomorrow
We also know that our actions alone will never be enough. We need allies in the community that can expand on what we do. That is why DWEJ has a long history of working with the youth of Detroit. One of our earliest efforts was the Youth on Patrol Against Pollution (YOPAP) where we helped local students build their own capacity to learn about what was happening environmentally in their communities, and more importantly, how to do something about it. From 2014-1016, we held three annual Youth Climate Action Summits, that not only focused on climate change, but also climate justice and green careers. One highlight of these summits was that we sent a local student to be a representative as part of a joint team to the 2015 COP21 Climate Change Conference, in Paris.
Area of Need: Elevating the Voices and Needs of Detroit Residents
DWEJ is known as a community engagement specialist with strong networks. We have consulted on many community engagement strategy designs for the creation and/or implementation of action agendas and plans, such as the Detroit Sustainability Action Agenda and the Delray Neighborhood Framework Plan. We have received funding from multiple foundations to engage the community around pressing environmental justice issues, most recently related to Energy Education and Literacy.
None of this work would have been possible without the residents with whom we collaborated, most notably our Climate and Sustainability Ambassadors, members of the community who helped us survey Detroiters to see what mattered most to them and what would make a sustainable and climate-resilient Detroit in their eyes.
Let's create a safe, clean and healthy Detroit together.
Please consider making a recurring tax-deductible gift to Detroiters Working for Environmental Justice today.